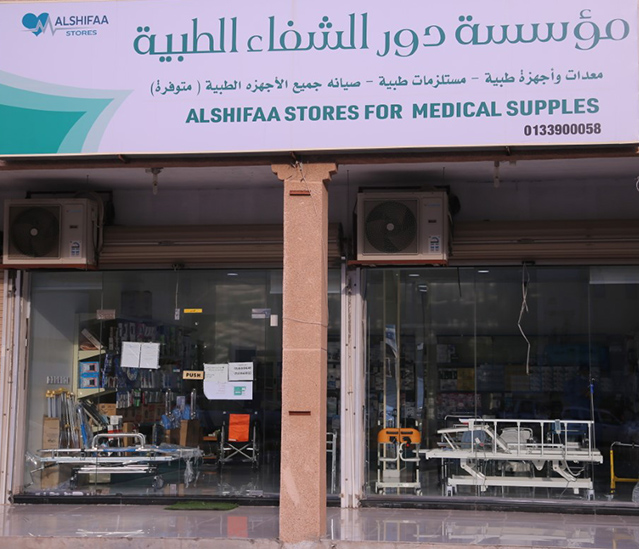 We are Dur Al Shifaa Medical Corporation
We are Dur Al Shifaa Medical Corporation (a Saudi establishment) registered with the Ministry of Trade and Investment under the registry Commercial No. 2057102121.
Dur Al-Shifaa Medical Foundation launched its first activities as a medical equipment and supplies distributor in 2015, where it was established in the city of Khafji, Kingdom of Saudi Arabia.
Dur Al-Shifaa Medical Foundation provides the trade of medical equipment & supplies available to Hospitals, Medical & Dentist Clinics, Pharmacies, Laboratories, and Home Care Providers for patients with special needs.
In recent days, Dur Al-Shifaa Medical Foundation is opening Medical Equipment Maintenance Shop to support the local hospital and medical clinics for equipment repairs and spare parts providing.
Our Vision
To be Dur Al-Shifa Foundation is the leading institution in the field of medical equipment and supplies in the Kingdom of Saudi Arabia, by applying the latest methods in management and marketing management and providing innovative solutions aligned on the needs of our customers.
Our Mission
We are working to push the wheel of local markets forward with Saudi products supported by global technology with high quality that suit different lifestyles and meet the needs of consumers.
Our Goal
• Owning the largest share in the Saudi market in the production and marketing of medical supplies.
• Reaching the summit as the largest integrated institution in medical equipment and supplies.
• Our services in medical supplies reach global markets.
The Quality
We adhere to the concept of total quality in all our business and services to achieve added value for our customers and shareholders.
Customer Satisfaction
A major goal around which all the efforts of our employees revolve and measure our ability to continue success.
Application of the Highest Safety Standards
Commitment to apply the highest standards of safety and security in Al-Shifaa medical facilities.
Need a Help? Call for our Customer Services